With EYS, you have a multitude of options to set up your projects, from a simple live broadcast to a deployment of multiple synchronized servers. 
————— Permanent installations —————
Plug the projectors into your computer and you're ready to impress the audience. 
Corporate conferences
Live shows and concerts
Architectural mappings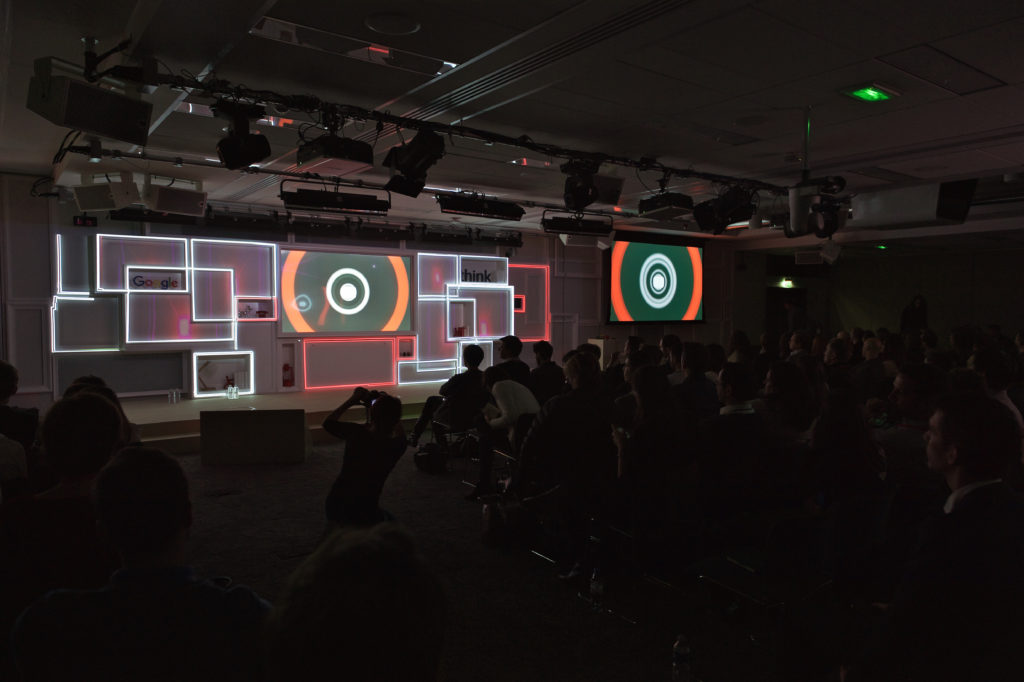 Export your project into a video file and upload it to your broadcast devices to play the content. 
Museography
Permanent installations
Point-of-sale experiences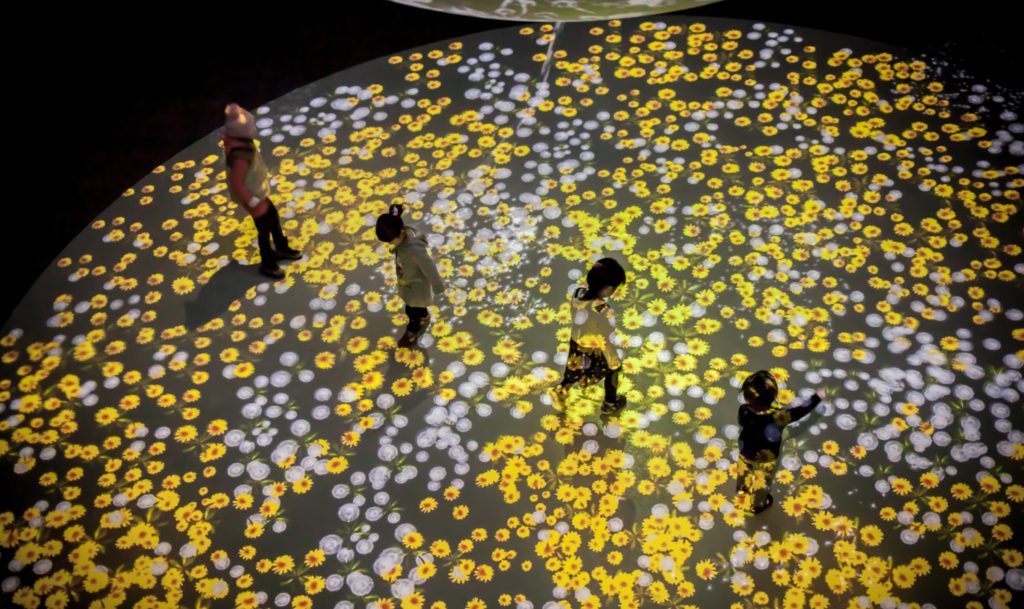 Deploy your media server with EYS Player® software, or opt for our EYS Server® hardware.
Immersive spaces
Interactive installations
Digital signage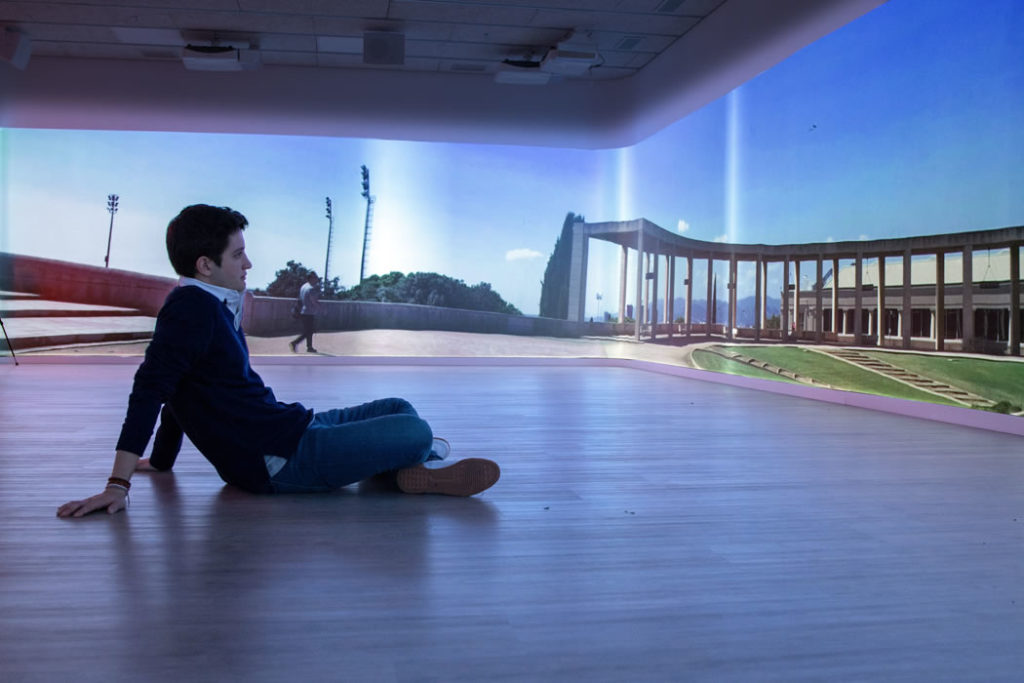 For your ambitious projects requiring power and reliability, we recommend the use of media servers: custom-made computer with a software that manages the installation.
After creating your project with EYS Designer®, save it as an .eys file:
Play it on your own media server with EYS Player® software
or choose our all-in-one EYS Server® hardware.
EYS project playback software on the computer of your choice.
Choose the number of video outputs you need and set up your installation.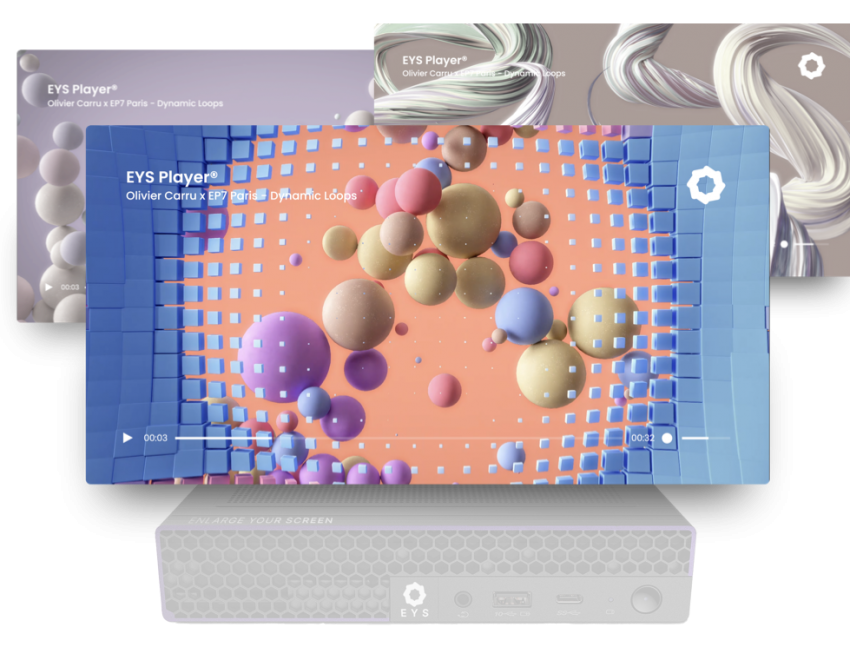 Stand-alone media servers designed specifically to run EYS projects.
Two models available to cover all needs. EYS Player® license included.

EYS Server®, two models for every need
EYS Servers® are stand-alone media servers specifically designed to run and play EYS Designer®software. They are formidable working tools that give you peace of mind when deploying your permanent installations.
Our stations are equipped with the latest components for fantastic performance.
Enjoy a cluster of technology in mini format units! 
Feel secure! We guarantee that our equipment has been tested and approved in our premises.

1 video output 
1 x WUXGA | 1920x1200px

4 video outputs 
4 x 4K | 3840x2160px
Download the technical data sheets
EYS Designer® <-> EYS Server®
The perfect synergy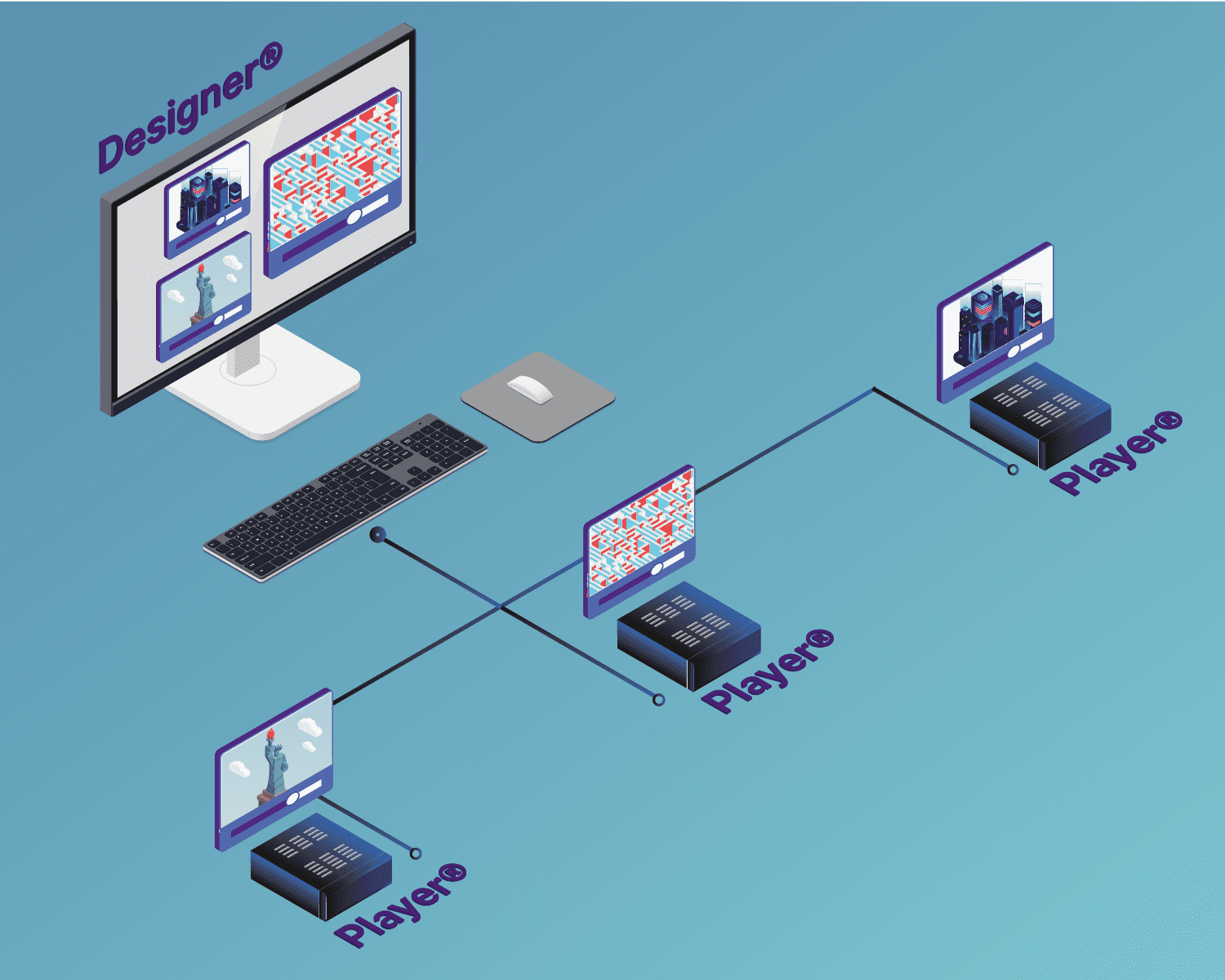 One EYS Designer® pour plusieurs EYS Server®
You only need one EYS Designer® license for all your projects. Once the creation is finished, simply deploy your EYS Server® for each of your customers.
Remotely control your EYS Server®
Each of your EYS Server® is connected to the Internet. So you can remotely modify the contents from your EYS Designer®.
Save your project as an .eys file
Upload this project to Google Drive or Dropbox
Your EYS Server® get the new file to update the mapping automatically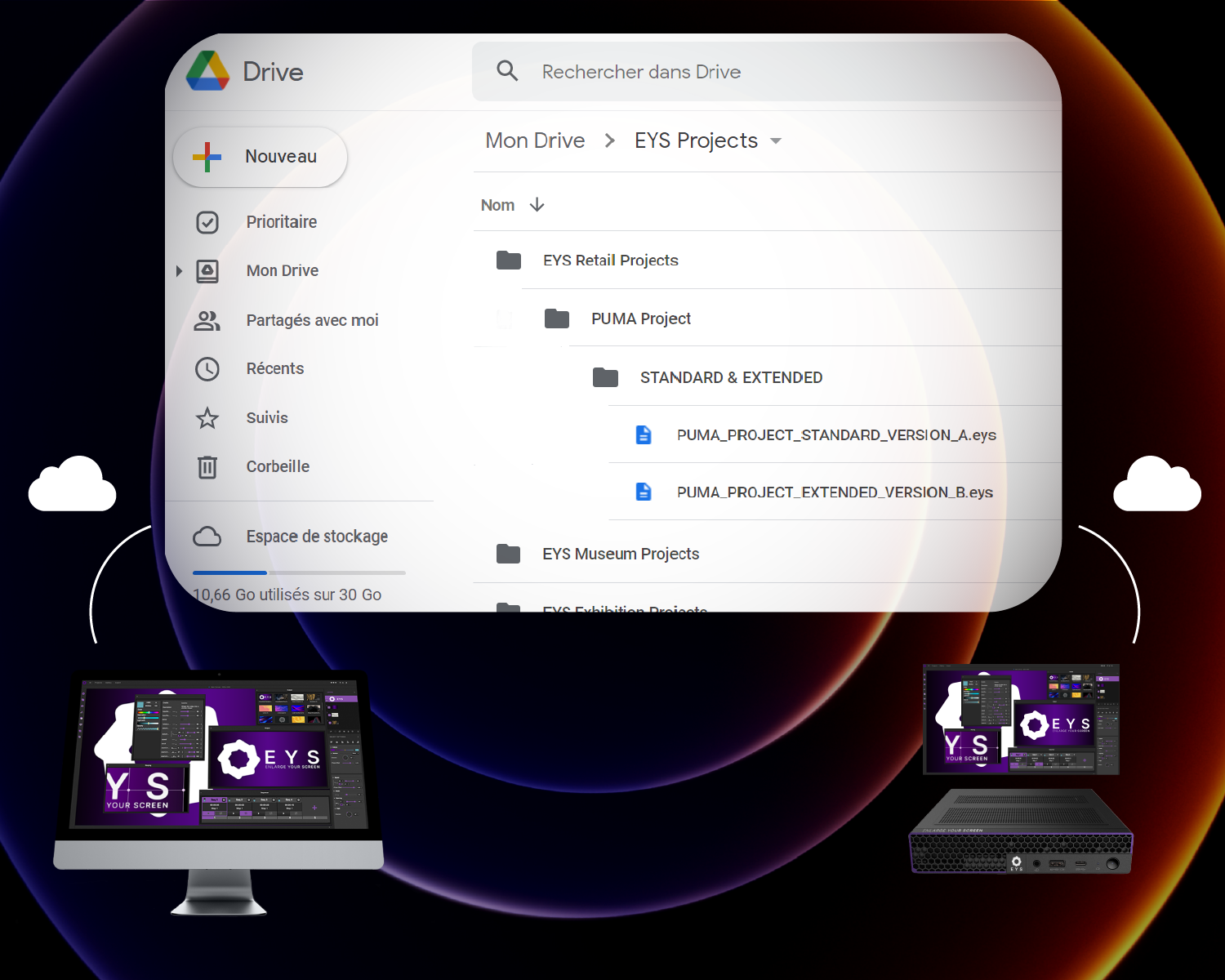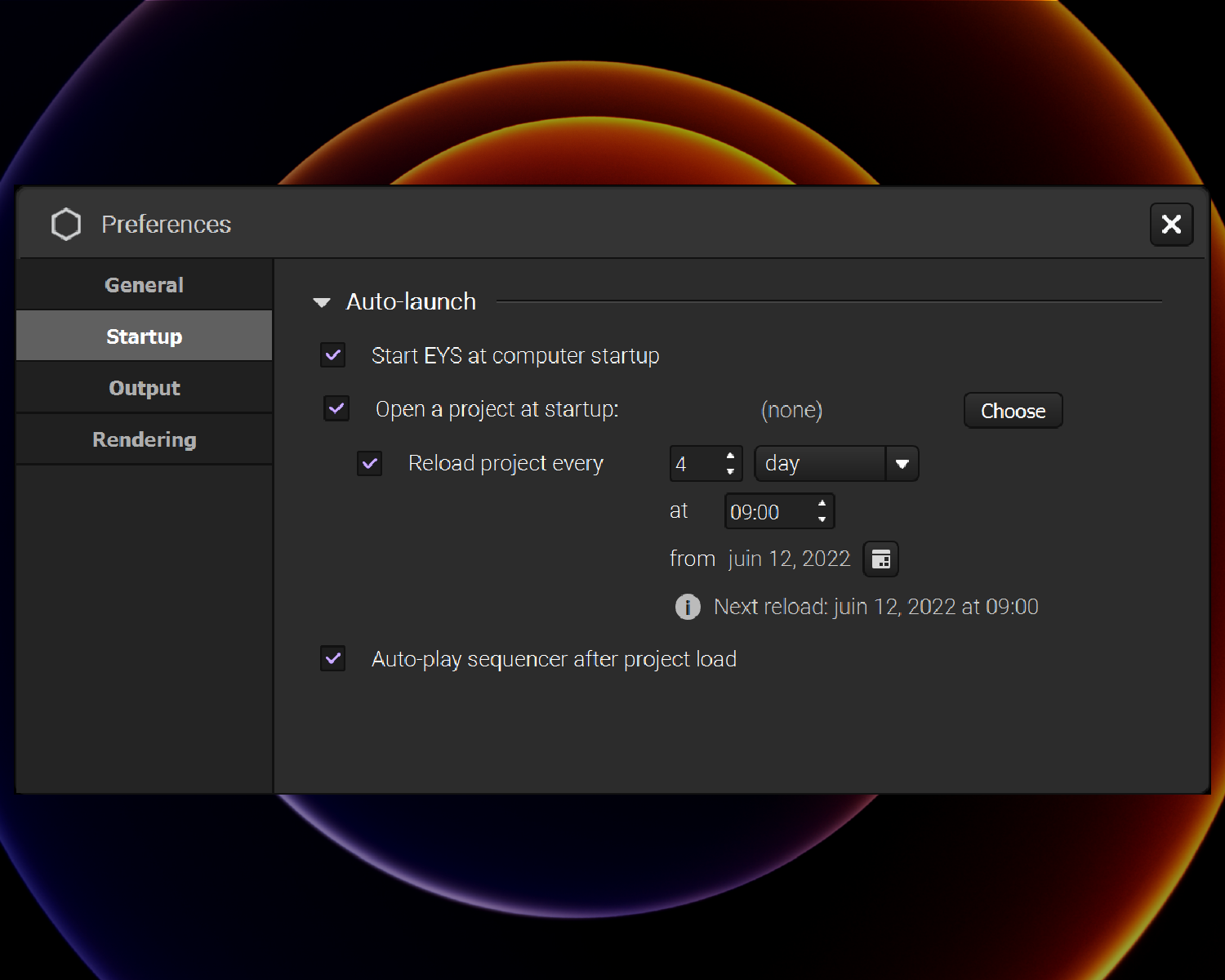 Automatic launch of the EYS software at computer startup
Even in case of power failure
Automatic loading of the project when opening EYS
Be bold and deploy interactive projects
EYS Server® is more than a simple media player, it includes each of the interactivity elements created with EYS Designer®.
Set up permanent installations controlled with tablets, smartphones or sensors. Have fun!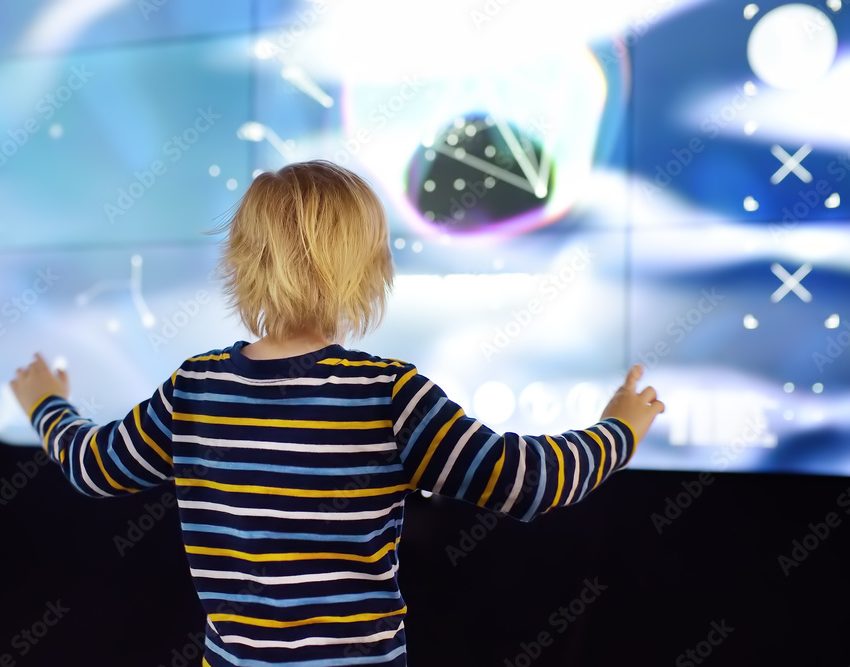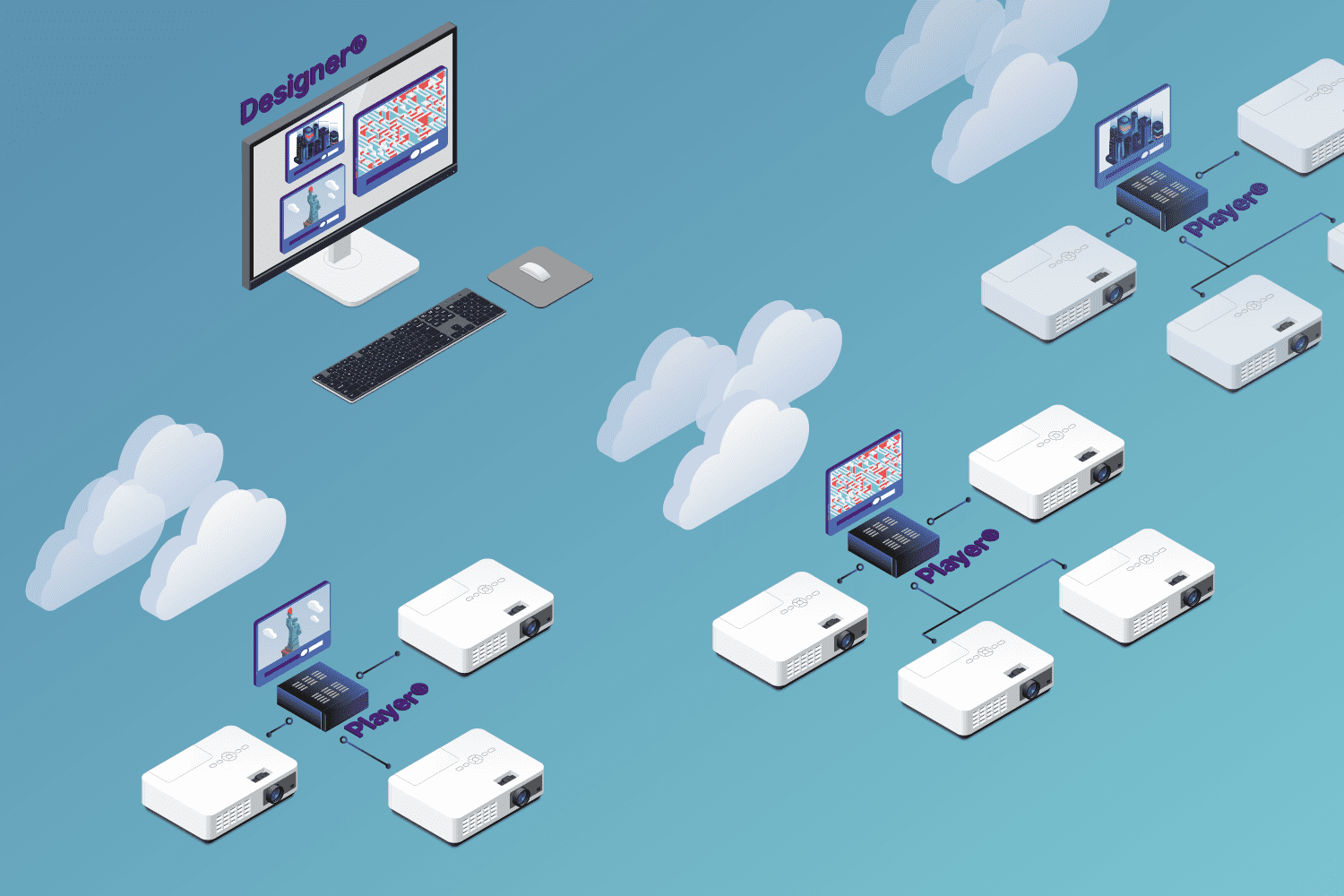 Synchronize multiple EYS Servers®
Deploy large installations by synchronizing your EYS Servers® together using the EYS Sync® feature included in EYS Designer®.
Note that EYS Sync® allows to synchronize several instances of EYS Designer® and EYS Player® as well.
Integrated broadcast software
The EYS Player® have their own software to distribute the projects created with EYS Designer®. The chosen components are optimized to work perfectly with the integrated software. Set up up to 4 simultaneous 4K outputs per EYS Player® with peace of mind.
Contact immediately our team of specialists to discuss your projects and needs. Guaranteed response within a few hours.
EYS Player® Mini
EYS Player® Max
Specifications
Processor
AMD Ryzen 7 4800U
Intel Core i7-11700T
Graphics card
AMD Radeon Graphics
Nvidia T600 4 Go GDDR6
RAM
8 Go DDR4-3200 Mhz
16 Go DDR4-3200 Mhz
Hard drive
M.2 256 Go SSD
M.2 512 Go SSD
Power supply
External 90W included
External 170W included
Gigabit Ethernet, Wifi
Bluetooth
-
Keyboard and mouse
-
Operating system
Windows 10 - 64 bits
Windows 10 - 64 bits
Displays
Number of video outputs
1 + 1 moniteur
4 + 1 moniteur
Maximum displays
1 x WUXGA (1920x1200px)
4 x 4K (3840x2160px)
Connectics
Front panel
1 port USB-A 3.2 Gen 2
2 ports USB-C 3.2 Gen 2
1 mixed headphone/microphone connector
1 port USB-C 3.2 Gen 2
1 port USB-A 3.2 Gen 2
1 mixed headphone/microphone connector
Rear panel
2 ports USB-2.0
1 Gigabit LAN
1 2.5 Gigabit LAN
1 HDMI
1 DisplayPort 1.2a
2 ports USB-A 3.2 Gen 2
2 ports USB-A 3.2 Gen 1
1 port RJ45
1 Wi-Fi dipole antenna
1 HDMI
4 mini-DisplayPort
Weight and dimensions
Weight
1,0 kg
1.4 kg
Dimensions (WxHxD)
110x48x117 mm
179x37x183 mm
VESA support compatible
Yes / included
Yes / not included
Guaranteed 100% covered
Parts and service: return, repair or replacement.
2 years
3 years
Do not hesitate to contact our team to discuss your projects and needs. Guaranteed response within a few hours.