The simplest software to create permanent visual installations
Lifetime license: 1499€/$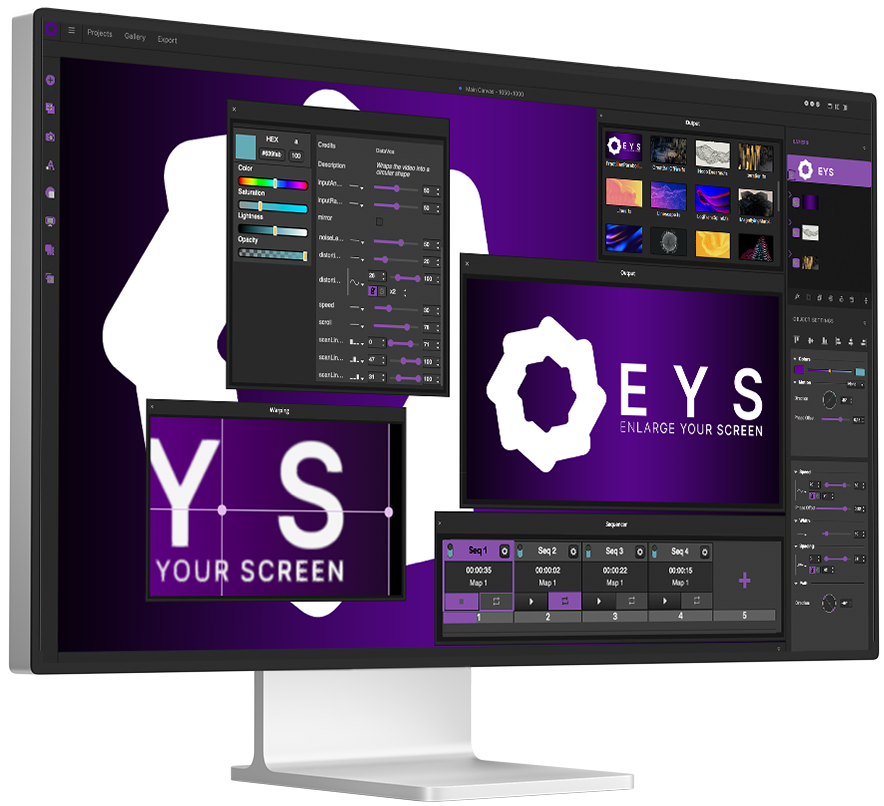 Software built on a decade of expertise and field projects
The result of years of experience in projection mapping and in the event/audiovisual industry, EYS revolutionizes the conception and deployment of permanent installations with a software that is ultra simple and quick to use.
EYS, the ultimate mapping software
Ultra-clear and neat interface

Fluid and quick actions

Create mappings in minutes
Take control and navigate through the software easily. EYS and its ultra clear interface allow you to elaborate and manage multiple ambitious projects in a few clicks.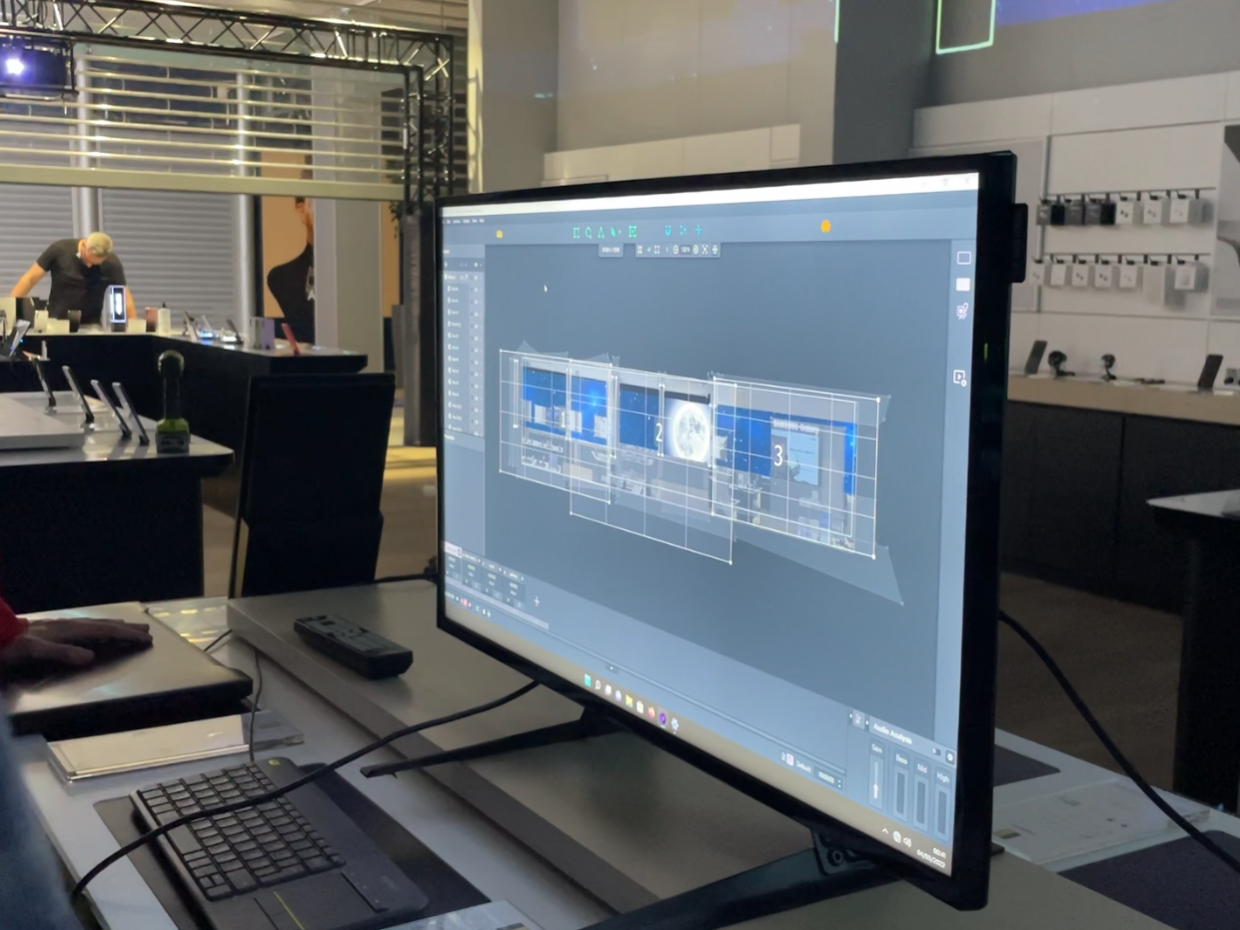 Design, test and broadcast with ease
No loading time

No rendering time

Real-time creation and iterations
Discover smooth and seamless creation with EYS. Import your content and iterate with the built-in tools. No loading time, no rendering time! Your changes are visible live without waiting.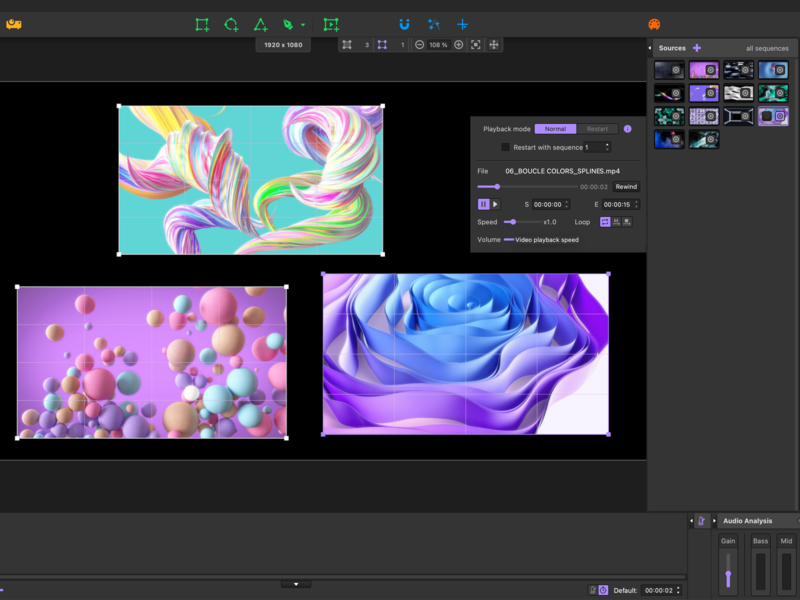 Be the most serene tech on the team
Powerful 4x4K graphics engine

Change your content remotely

Manage multiple projects on different sites simultaneously
The software is the heart of the EYS ecosystem: control and modify every project right from it. Work with reliable technology and deal calmly with last-minute requests, whether on or off-site.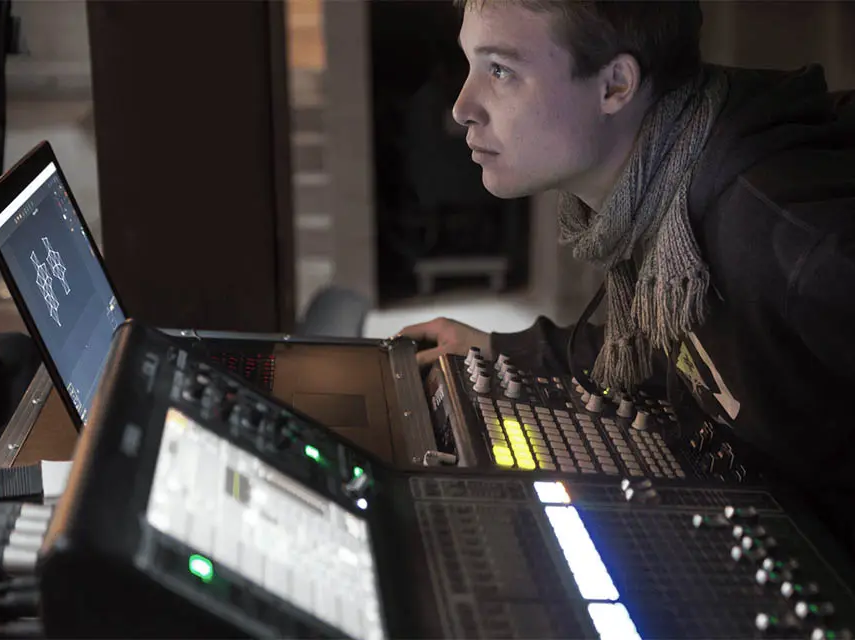 EYS Designer®, the partner you always dreamed of having
EYS Designer® is a complete solution with features perfectly tailored to the creation of permanent video mapping installations.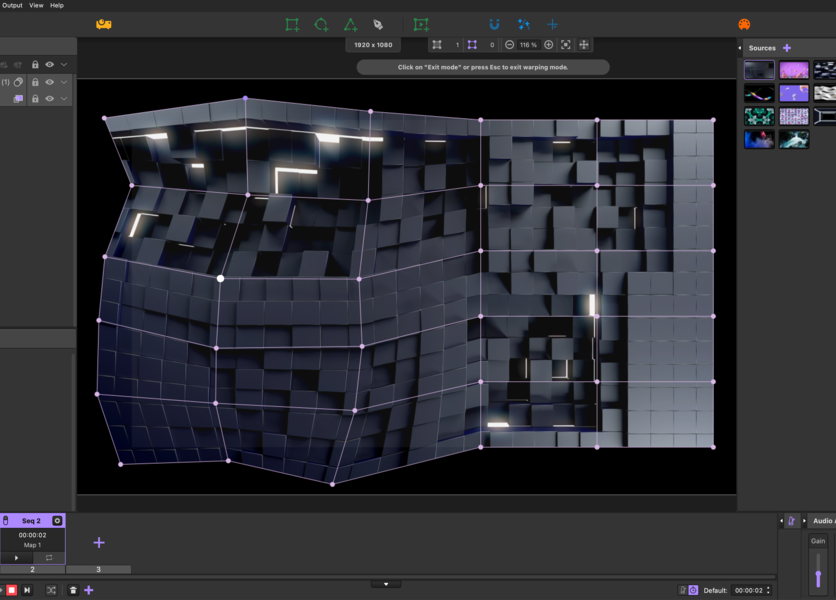 Choosing EYS Designer® is the guarantee to design and produce spectacular projects. The simplicity of use coupled with the functionalities of the software ensures the creation of all types of installations, even the most ambitious.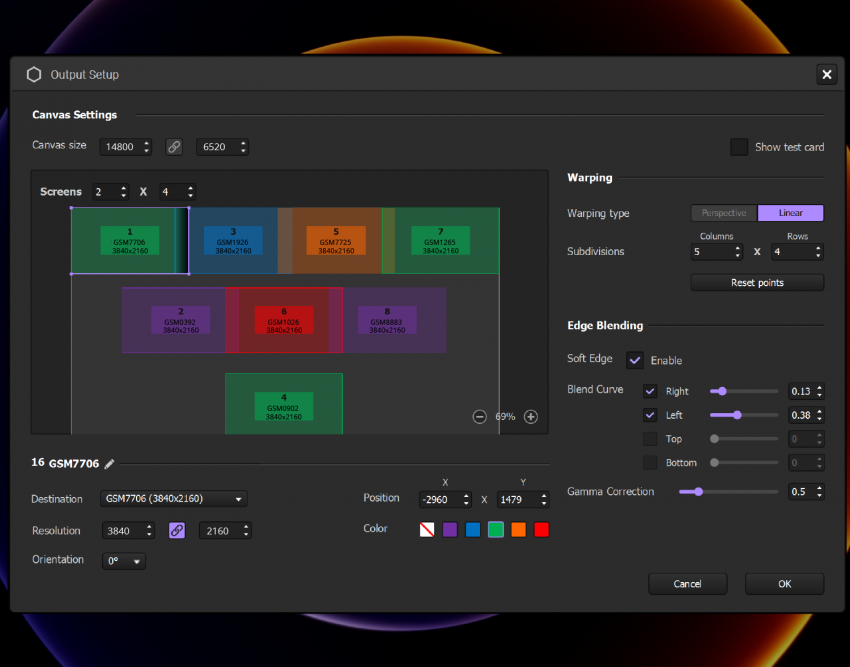 Unlimited outputs and resolutions
Use as many projectors and screens as you like!
Design shows with very high resolutions!
No limitations to produce large-scale projects or to create immersive spaces. 
Perfect synergy with EYS Player®
Stand-alone media servers designed specifically to play EYS Designer® projects
Great work tools that give you peace of mind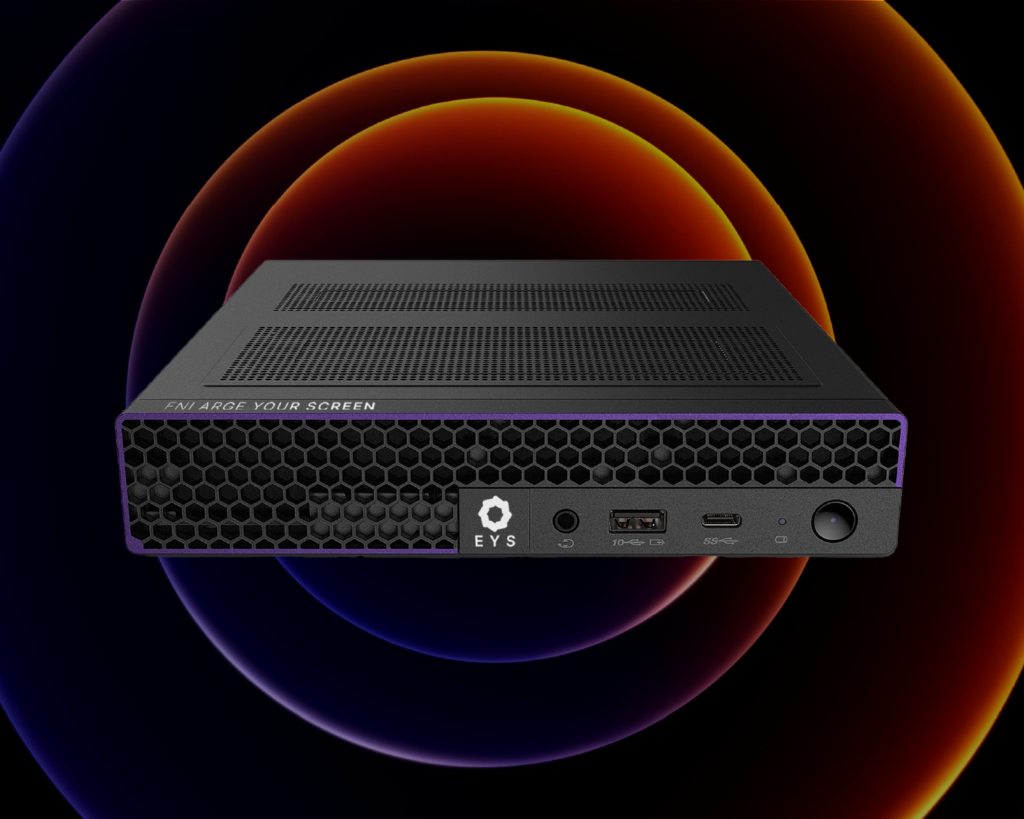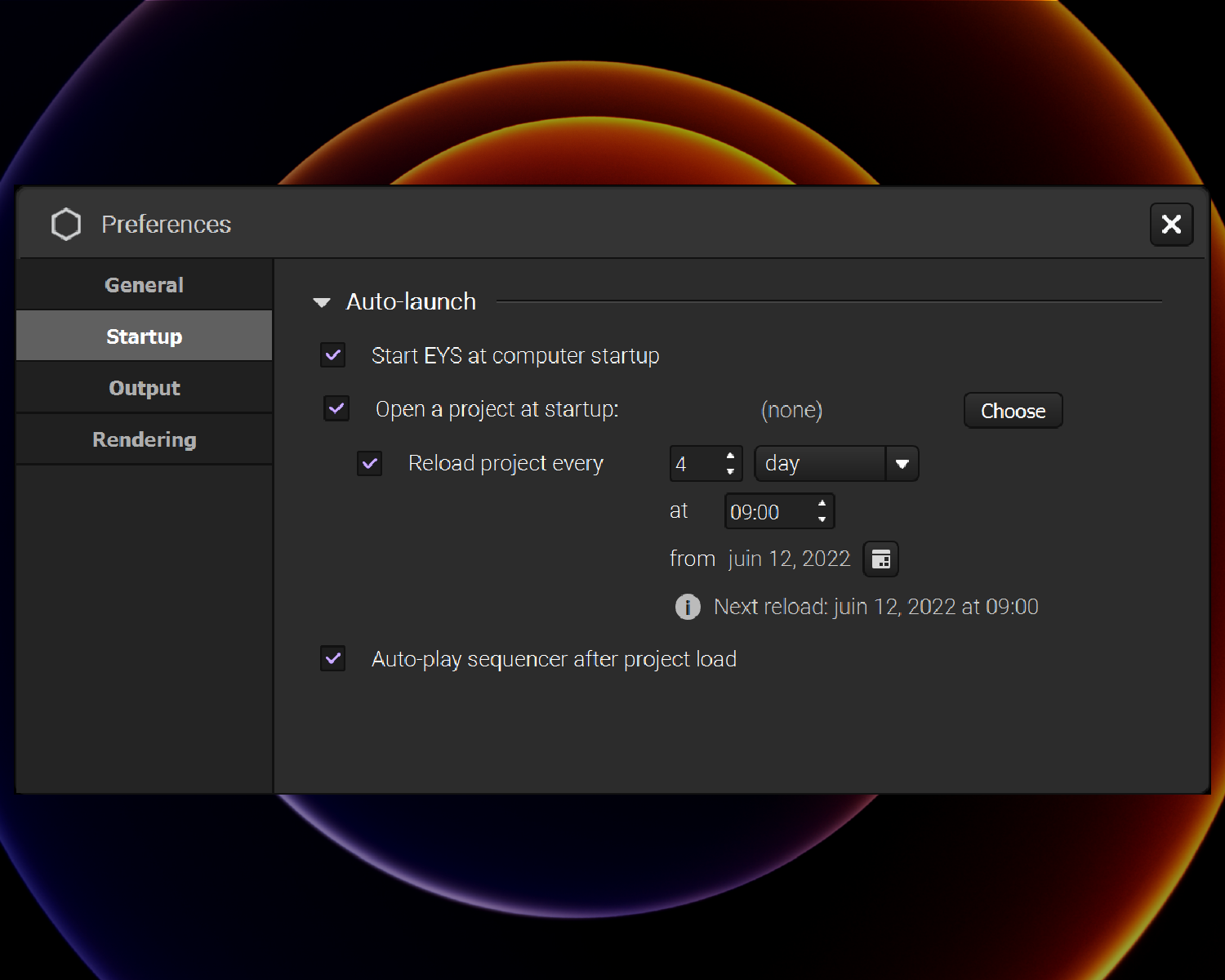 Automation of the projects
Automatic launch of the EYS software at computer startup
Even in case of power failure
Automatic loading of the project when opening EYS
Remote content modification
Save your project as an .eys file
Upload this project to Google Drive or Dropbox
Your EYS Player® retrieve the new file to update the mapping automatically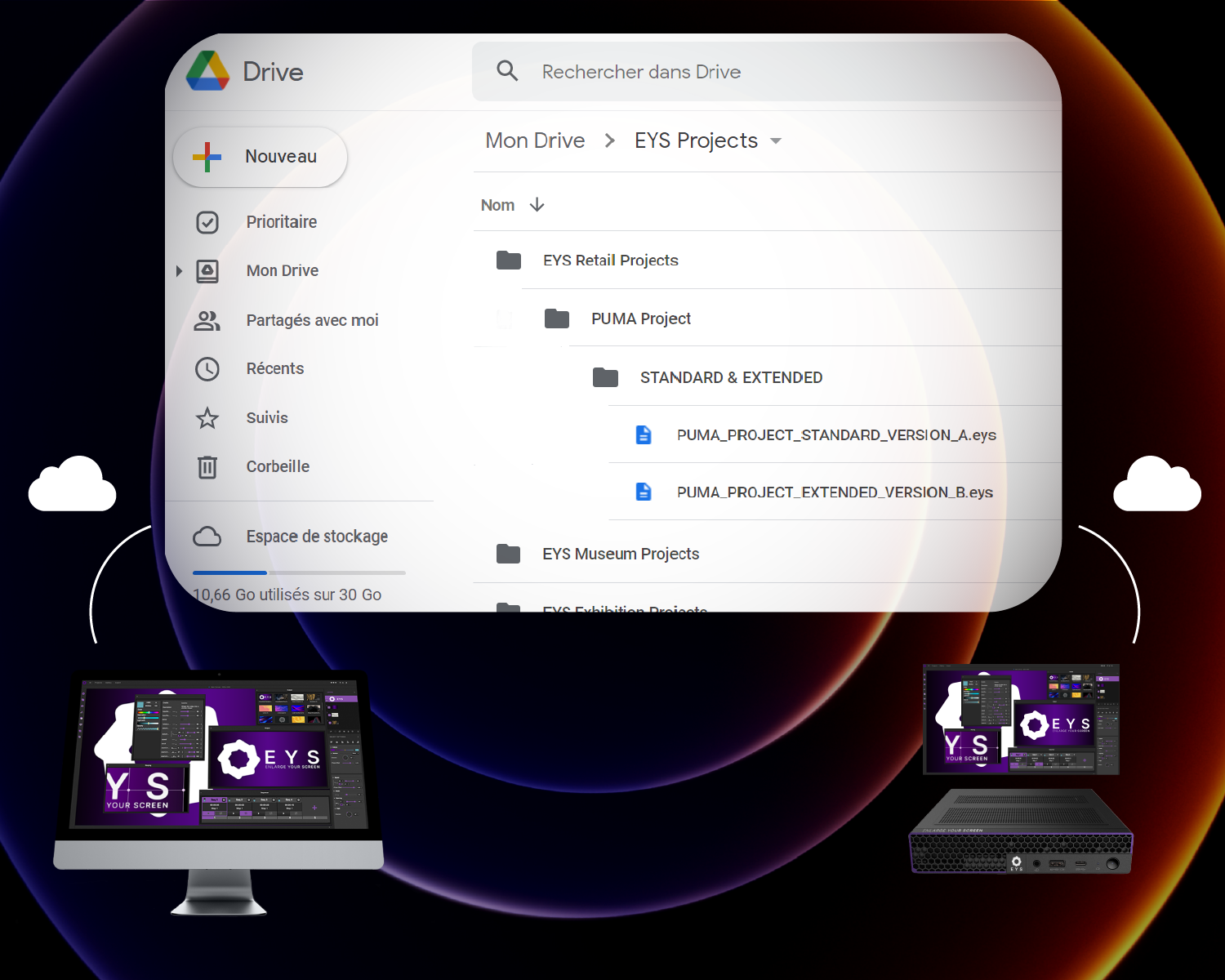 Integrated content library

Import your photos, videos, gifs

Export your projects as videos
Enjoy powerful technical tools
Multi-videoprojection - Unlimited outputs
Edge-Blending – Unlimited resolutions
Warping of outputs and contents
MIDI / OSC / Art-Net compatible
Audio Synchronization
Stream via Syphon/Spout/NDI
Go further with EYS Player®
Change media remotely
Automation of contents
Seamless integration with EYS Player®
EYS Designer® Product Details
Windows: 8, 10 and 11 (64 bits)
EYS is compatible with Apple M1 chips via the Rosetta 2 software
Intel Core I5 2.30GHz, 4 Cores
4GB of RAM
Dedicated graphics card (Nvidia / AMD) with 2GB of VRAM
500MB of free disk space
Intel Core I5 2.30GHz, 4 Cores
8GB of RAM
NVIDIA GTX 1060 / AMD RX580 or better
500MB of free disk space
Compatible with all displays
EYS Designer® is compatible with all VGA, DVI and HDMI video projectors. All LED screens on the market can also be used with the software.
Do not hesitate to contact our team to discuss your projects and needs. Guaranteed response within a few hours.
Deploy your installations with the EYS Player® broadcast station
Powerful and compact, EYS Player® is deployed on-site to play your EYS Designer® projects.